Toast with Jam 6 from Roxio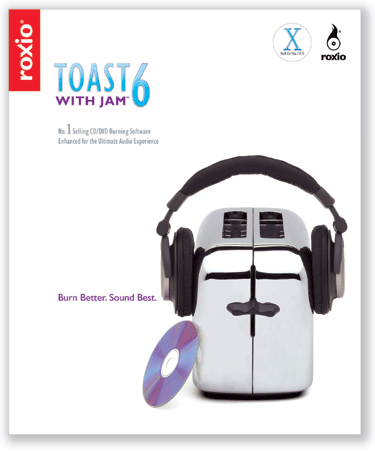 Toast with Jam 6, for MAC OSX, is Toast 6 Titanium and Jam 6 in one bundle. But it doesn't stop there since you also get Dolby Digital audio and video encoding tools and Peak Express 4.1, a stereo audio editing program for building song lists, doing cross fades and sonically polishing your music or video soundtracks.
Users of CD burning software will love Toast 6 Titanium's ability to not only burn music and data CDs and DVDs but also make MP3 discs; copy, one-to-one CDs and DVDs; burn video discs (VCD, Super Video CDS and DVDs); import video from digital camcorders; make photo album CDs or DVDs; burn enhanced or mixed media CDs; and make music DVDs holding up to 36 hours of music using Dolby Digital encoding. Dolby Digital also lets you put up to two hours of video on a DVD and maintain great picture and sound quality.
After you've sequenced, cross faded between songs, EQ'd, applied compression or normalized your music audio in Peak Express, the Jam 6 program produces a 100% Redbook-compliant master disc ready for commercial replication--the last step in your DIY record CD project.
Extra goodies included in this package are: Motion Pictures brings still photos to life with stunning pan and zoom effects and CD Spin Doctor 2 digitizes vinyl records and tapes reducing unwanted noise and hiss and allows direct recording of live audio performances. Deja Vu secures data with scheduled, automatic back ups to CD and DVDs utilizing data compression, and 128-bit AES encryption and password protection.
Toast 6 burns discs from files or folders on a network or right from the desktop and universal audio & video converters make it easy working with all file formats. Toast with Jam 6 is available online at $199.95 MSRP. Jam 6 software can also be purchased as a stand-alone product and installed without Toast. There is also a free update to burn DVD Double Layer (DL) discs for nearly twice the amount of personal data (from 4.7GB to 8.5GB), or record more than three hours of MPEG-2 (DVD-quality) video content on a single DVD +R DL disc. See: www.roxio.com/jam for more information.
---