New Additions To the Sabian B8 Cymbal Line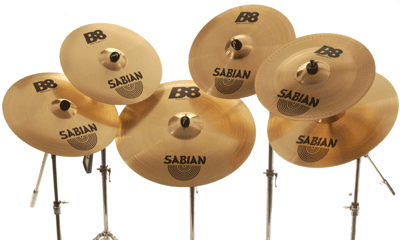 The latest extension of Sabian's B8 cymbal series includes a 16-inch Chinese cymbal, and 17 and 18-inch thin crashes. Not only do these models extend the range of sizes and sounds available with B8, the 17 and 18-inch crashes answer drummer's demands for larger crash cymbals. The new 17, 19 and 20-inch Rock crashes offer heavy players a choice of odd sizes in this range, while the 21-inch Rock ride shows Sabian offering the same sort of models in their budget lines as they have in their professional series.
Precision crafted from pure B8 bronze, an alloy of 92% copper and 8% tin, these cymbals respond with tonally tight, bright and cutting sounds that have made B8 such a popular mainstay with the global drumming community.
Sabian utilizes it own proprietary hi-tech process to precision craft B8 cymbals before hand finishing them and aging them to maturity in the Sabian vault. All B8 cymbals are quality protected by the Sabian's one-year warranty program. For more information, visit www.sabian.com/.
---