SABIAN Paragon Cymbals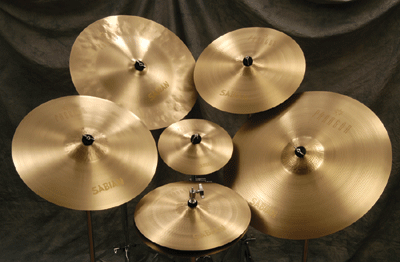 SABIAN's new signature Paragon cymbal line was created in collaboration with Neil Peart, drummer with legendary rockers Rush. Handcrafted from pure SABIAN B20 bronze, Paragon uses automatic AA-style hammering and an innovative mix of sound defining properties from three other SABIAN series, the AA, AAX, and Hand-Hammered cymbals. A complete set of Paragons is powerful and musical with all cymbals dynamically responsive, highly durable, and effective for wide range of playing styles. The natural finish of these cymbals is enhanced with SABIAN's logo stamped in rich gold ink unique to cymbal making.
Designed as an entire set of cymbals that compliment each other, there are rides, crashes, splashes and Chinese models. At over 8lbs in weight, the 22-inch ride is an extra-heavy sound with strong, clear-cutting stick definition. The hi-hats, 13 and 14-inchers, are medium weight, for fast, crisp responses and clean sticking. The crashes, available in 16, 18, 20-inch models, are medium weight, with large bells that boost their volume and power for fast, explosive response. The splashes come is 8 and 10-inch sizes, are very fast sounding, sharp and biting. Finally, the 19-inch Chinese has a small bell, a high bow, and an extremely wide-lipped edge that is HHX-hammered, for a more traditional oriental look and sound while the heavier 20-inch Chinese has a drier, more direct response.
Paragon cymbals are quality protected by SABIAN's One-Year Warranty. Prices start at $126 and a Neil Peart Performance Set with 14" Hats, 16" Crash, and 22" Ride sells for $995 MSRP. An ATA-style flight case containing the complete Neil Peart set-up consisting of 12 Paragon models: 8", 10" Splash, 2X 16" Crash, 18" Crash, 20" Crash, 22" Ride, 19" Chinese, 20" Chinese, 13" HiHats, 14" HiHats sells for $3,199 MSRP. For more information and pricing contact SABIAN Ltd. 219 Main Street, Meductic, New Brunswick Canada E6H 2L5 Telephone them at 506-272-2019 or visit www.SABIAN.com.
---