Sabine MetroTune MT9000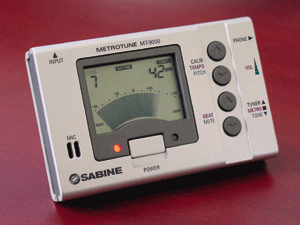 MetroTune MT9000 is three handy musical accessories in one package: chromatic tuner, metronome and tone generator. With a suede-like protective case, the MT9000 features include a chromatic and automatic tuner with an LCD and multi-color LEDs for precise tuning. The MT9000 also has both a built-in mic and 1/4-inch input jack for tuning electric instruments.
Sabine's loud, wood block metronome comes with a continuous volume control and three timing modes: standard, accented downbeat, and classic rhythm figures. The four-octave tone generator is another tuning aid and can be recalibrated from 430Hz to 449Hz.
The slim, compact design includes a quick-change battery door for the two AAA batteries included with each unit. The MetroTune comes with Sabine's famous 2-year warranty. Contact Sabine Inc. at 13301 Highway 441, Alachua, FL 32615-8544, their phone number is 800-626-7394 or Web to: www.sabine.com.
---