SCOTTeVEST™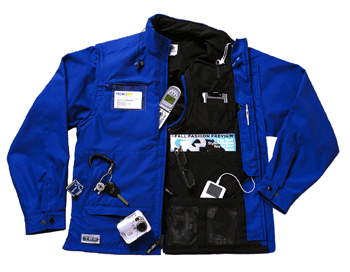 SCOTTeVest LLC introduces the SCOTTeVEST™ version 2.5 to help consumers manage and carry all the toys and gadgets you'd ever need at the same time by way of 16 pockets. With interior channels for interconnecting wiring, you'll be ready for any mission-critical task that requires you to carry your cell phone, cell phone camera, pager, pocket knife, medications, keys and car alarm remote, PDA, CD/MP3 player, CD-Rs and DVDs, mouth spray, digital camera, extra SmartMedia cards, pepper spray, GPS receiver, pen and pencil set and oh yeah, your wallet.
This product line incorporates the patent-pending Technology Enabled Clothing™ (TEC) system that integrates luggage and apparel allowing people to discreetly hold, conceal and connect several electronic devices at the same time. With an improved look with hood, there is also an ID holder, ear bud pockets and magnets to keep the jacket closed.
The SCOTTeVEST is made from lightweight, water and wind resistant micro-fiber with zip-off sleeves, adjustable waist, reflective strip in back and a felt neck for comfort. The unisex SCOTTeVEST is available in royal blue and black and exclusively at www.scottevest.com for $139.99.
---