SE Electronics' TBK Mics-SE 5000 Tube Condenser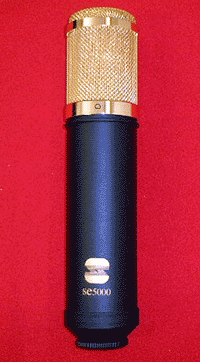 At the top of the line of Chinese manufacturer SE Electronics TBK Mic line is the SE 5000 tube condenser microphone. "Top of the line" in this case does not equate with the highest prices-the SE 5000 microphone sells for just $299 MSRP! This is a full-sized studio mic with cardioid pattern using an one-inch gold evaporated diaphragm and an 'off-the-shelf', reliable12AT7 tube.
The stunning gold-plated grill sits on top of a royal blue all-metal body that is easy on the eyes of any singer or solo instrumentalist. The mic comes with an aluminum carrying case, the SHM5 elastic suspension shock mount, and a regulated remote power supply. Sensitivity is rated at better than 16m V/PA with an output noise figure of only 18dBa or better typically. Total harmonic distortion is better than 0.5% for a loud 120dB SPL.
I tried the SE5000 on vocals with good success. The mic has a forward mid-range sound with loads of gain and a low noise floor. Great for speaking or singing, the mic's character is good for bringing out the pronunciation of words. The shock mount is a must and worked well to isolate the mic from floor and room rumble.
TBK Mics is at 21621 Stevens Creek Blvd. Cupertino, CA 95014. Phone them at: 408-873-8606 or Fax: 408-873-7670. Visit www.tbkmics.com and www.seelectronics.com
---