Sennheiser HD 280 Pro Headphones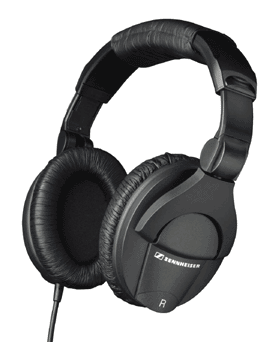 These new Sennheiser HD 280 headphones combine three usually disparate features: exceptional isolation, loud playback and fold-up design. Designed for broadcast and ENG (that's Electronic News Gathering) applications, studio monitoring or DJ applications, the HD 280's closed dynamic drivers produce linear sound up to 113dB SPL with 1 mW of input power.
The phones have only a 64 ohm input impedance making them easier to drive for a given loudness. Up to 32dB of external noise is reduce in a comfortable way with form-fitting, ergonomically designed circumaural earpieces. The headphones fold up flat when not used making them a good choice if you travel often. The single-sided coiled cable with 3.5mm jack and lockable 1/4-inch adapter is extra extendible (one to three meters) for maximum flexibility. With all parts easy to replace, sound quality is good with a frequency range of 8Hz to 25kHz.
The HD 280 Sennheiser headphones weigh in at 285 grams (fairly light) and sell for $199 MSRP. There is also the HD 280-13 model with 300 ohm impedance and for more information contact Sennheiser USA at Sennheiser at 1 Enterprise Drive, Old Lyme, CT 06371. 860-434-9190, Fax 860-434-1759 or go to www.sennheiserusa.com
---