SFX Serafine Collection Sound Effects Library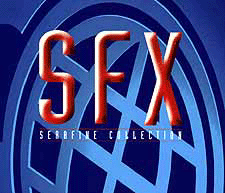 SFX is the first sound effects library available from sound designer Frank Serafine. Serafine and his Serafine Studios specialize in creating custom music soundtracks and providing audio production services for feature films, TV, commercials, CD-ROMs/on-line and themed-entertainment outlets. Serafine created the successful Sound Ideas and L2 Entertainment libraries.
The 16-disc SFX library features award-winning sounds from several Hollywood movies and includes categories with titles like: Science Fiction, Electronic, Magic/Surreal, Special Effects, Foley, Industrial, Metal, Recreational, Transportation, Water, Human/Animal, Ambience and Doors.
The collection is available directly from Serafine Studios 248 Westminster Ave., Venice, CA 90291. Call 310-399-9279. Web to: www.frankserafine.com
---