Shure's Performance Gear Microphones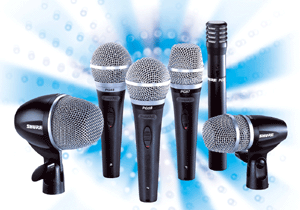 Performance Gear mics are designed for specific applications that make them more cost-effective over more expensive general-purpose dynamic microphones. There are six models for vocals and instruments and all microphones come with cables and mounting accessories. The PG48 and PG58 models are for vocals with the cardioid PG48 for speech and karaoke and the PG58, with a wider frequency response and tighter cardioid pattern, a good choice for lead vocalists. These mics have die-cast metal housings, black matte finish and on/off switches. The dynamic PG57 is designed for guitar amps, brass, or saxophone while the highly sensitive PG81 condenser has a flat response curve for detailed reproduction of acoustic instruments and drum kit overheads.
Speaking of drums, the PG52 and PG56 are two specially built dynamics with integral swivel mounts and tuned to capture the low-end punch of kick drums or bass guitar amps. The low-profile PG56 is for close-miking snare drums and rack/floor toms. Go for the either the PGDMK4 or PGDMK6 Performance Gear drum microphone kits and get four or six microphones that includes A50D drum mounts, cables, and lightweight carrying cases.
Shure Performance Gear sells from $63 to $245 MSRP while the kits list at $521 and $928. For more information, contact Shure Incorporated corporate headquarters are located at 222 Hartrey Avenue, Evanston, IL 60202, 847-866-2200. Web to www.shure.com/
---