Sibelius Compass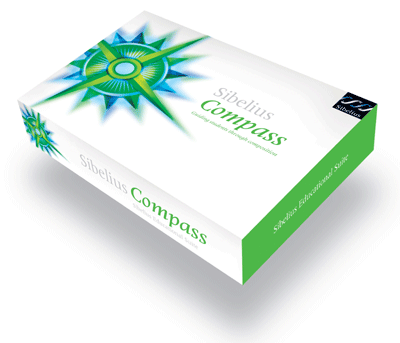 Compass is one module of Sibelius Software's interactive six-part Sibelius Educational Suite. Compass teaches musical composition for students from middle school through university levels by combining teaching materials and a sequencing software program called Tracker.
I installed Compass in my PC (the software flies on either PC or MACs including OS X) and was up and learning in no time. Compass has seven chapters: Pitch Shapes; Scales; Melody; Rhythm; Timbre and Texture; Form; and Chords and Harmony. Perfect for self-teaching or as a program for a music teacher, each topic has a quiz that automatically corrects, shows the right answer (after you've pick one) and keeps 'score.' You can take it as many times as you want. As a further aid, you can hear brief recorded examples to "drill in" new musical concepts such as learning what a melodic contour is.
Each topic or lesson in Compass looks like a mini Web page with links to other chapters and topics that relate to the current page's topic. Furthermore, a color-coding system is used for interconnecting concepts from topic to topic and, if available, a link to a Tracker Activity. (60 total included)
Tracker is an excellent sequencer program in its own right and a Tracker Activity is a ready-made and malleable sequence to demonstrate a musical concept such as Ostinato, Canon or a Palindrome. Also with Tracker, students are free to compose new music using their MIDI keyboards and the hundreds of preset rhythms, motives and chord progressions.
Other modules in the Sibelius Educational Suite are: an interactive encyclopedia of instruments and ensembles called Sibelius Instruments; music lesson plans and resources or Sibelius Notes; Aurelia is a comprehensive software for ear training and aural testing; Musition is music theory training and testing software.
Finally, Sibelius Compass can be used in conjunction with Sibelius 3.0 (or any version of Sibelius) to provide music notation for the compositions. Compass sells for $119 MSRP and for more information go to www.sibelius.com.
---