SonicCord's Toad Guitar Amp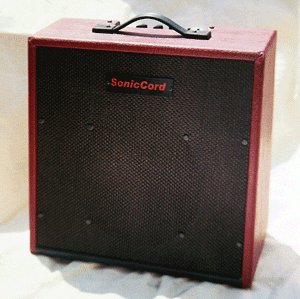 I was first attracted by the name of this combo guitar amp but it turned out to be one of the more worthwhile pieces of equipment I saw at the recent 2003 Summer NAMM Show in Nashville. Toad is hand-built with a big nod of reverence to the classic amps of yesteryear. The Toad is a super portable combo that has two switchable power modes: 20-watts and 32-watts. The design concept is to have a great sounding amp that will go, work and sound great at any size venue. Between the back panel mounted Power Mode switch and the front panel Mood control, virtually any tone can be created--even all the way back to early British amp sounds.
A pair of 6L6GCs powers the Toad and there are 12DW7A and 12AX7LPS in the preamp section with Volume, Tone and the aforementioned Mood control knobs. The standard speaker is a Jensen C12K.
The Toad sells for $1,600 MSRP and includes a custom-built flight case made by Rock Hard Road Cases Inc. SonicCord Amplifiers is at 25 Marion Street, Dedham, MA 02026. Telephone them at: 781-329-2654 or visit: www.soniccord.com.
---