Acid® Pro 4.0 from Sonic Foundry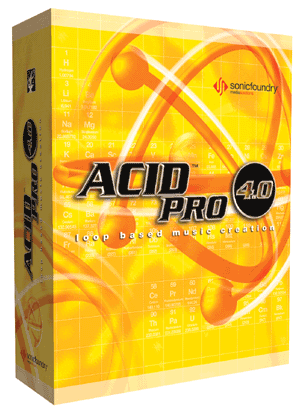 This is the latest version of Sony's extremely popular loop-based music creation program with many new features and functions. Version 4.0 still hits the mark with an easy-to-use and intuitive "pick, paint and play" interface that made it a hit with musicians, songwriters, programmers, jingle writers and hobbyists. Acid Pro 4.0 adds MIDI recording and editing capabilities making it possible to create a complete musical production including original content with this single program. New video features make it possible to score music to picture in frame-accurate synchronization and Loop Cloning is where you can select a song or sample, bring it into the Chopper, and save it as a new track.
You can rip music directly from CDs into Acid Pro 4.0 for immediate use and the 20 full-featured DirectX plug-ins and demo plugs from TC Works and Native Instruments will get you sounding very pro. Other great features are: 5.1 surround sound mixing; ASIO and VSTi driver support; MIDI piano roll, event list editing and MIDI step recording; effect automation; AutoSave crash recovery; alternate time signatures; support for Yamaha OPT; new Hot key commands; and .wav, .wma, .wmv, .rm, .avi, .mov, and .mp3 audio file formats are all supported.
---