Sony Screenblast Acid 4.0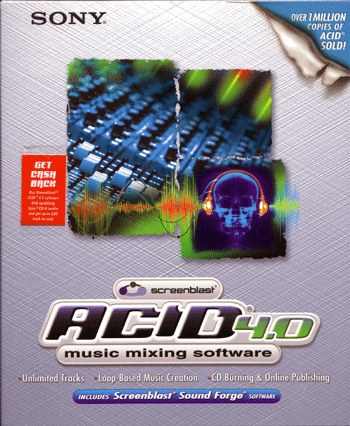 Sony's Screenblast Acid 4.0 is an expanded version of the very popular Acid 4.0 with many new features designed to complement Sony's Screenblast Movie Studio video production and DVD authoring software. Screenblast Acid 4.0 and Movie Studio (along with your PC) are the tools and Sony Screenblast, at www.screenblast.com, is the online service to help you come up story ideas, shoot and produce your own home movies. Users can create, choose to share ideas for movies, use the 50 online templates for weddings, parties, road trips, or soap opera-style vignettes; store your creation for public viewing at the Gallery section; use the Tips and Tricks for learning the "inside stuff" for more 'pro' looking finished productions; and the Clips and Effects offers royalty-free footage and image files and 1,000 music and sound effects audio clips.
Screenblast Acid 4.0 now has unlimited track count (depending on your computer's horsepower), supports file exportation to Sony® Net MD™ player and Sony CLIə, interactive tutorial, Macromedia Flash (.swf) format support for on screen movies along with your music tracks, Windows Media 9 support, and complete Screenblast Sound Forge Studio waveform editing. Like previous versions of Acid, 4.0 comes with loads of pre-recorded royalty-free music loops all set to drop into your music track at any tempo and song key--they always work and sound great. Acid will also let you do your own remix of your favorite songs and then convert to MP3 and burn a CD.
Screenblast Acid 4.0 sells for $64.95 while Movie Studio is $99.95. Membership at screenblast.com is free for limited access and $39.95 annually for full access content with a 14-day trial period.
For more information, visit www.sonypictures.com or www.screenblast.com.
---