Sony Sound Forge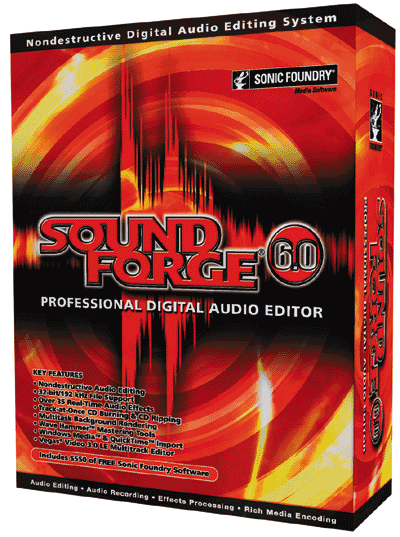 Sound Forge 6.0 sets the new standard in fast, powerful and professional sample-accurate non-destructive audio editing on the PC. The significant new elements offered in this version enhance your projects and speed productivity.
Multitask Background Rendering allows you to work on one file while Sound Forge processes another and with the Modeless Audio Plug-In Chainer you can add, combine and preview effects in real-time in an "always up" separate window. Wave Hammer™ Mastering Tools includes a classic compressor for dynamic control and a volume maximizer to pack additional punch into your mix. Additionally, 6.0 has a DirectX® plug-in manager, numerous toolbar/window control and user interface options, CD ripping and burning, over 35 real-time audio effects, a Spectrum Analysis Tool, crash recovery tools and undo/redo history. Enhanced time zoom lets you zoom down to a 24:1 ratio for sample-accurate editing. For superior fidelity, there is support for 32-bit/64-bit float/192 kHz multiple file formats in up to four GB and larger sizes.
With more than $400 worth of free items including the Batch Converter 5.0 Utility, Acoustic Mirror™ and a free streamlined edition of Vegas® Video LE 3.0, this package is a must for anyone serious about audio editing and production on a PC.
---