Spectrasonics Atmosphere Dream Synth Module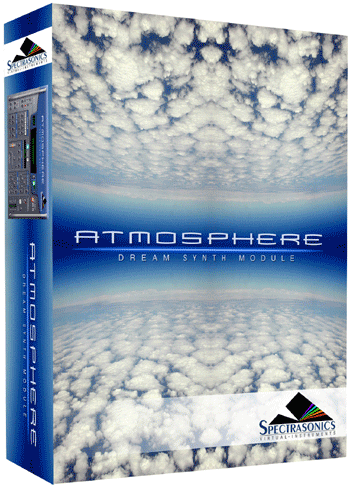 Atmosphere is a programmable, sample-based virtual synth module that comes with a 3.7-gigabyte library for more than 1,000 different sounds and layering elements easily controlled and manipulated by way of an intuitive interface. Atmosphere works as a native plug-in instrument in hosts like Logic, Digital Performer, Cubase, Nuendo and Pro-Tools. When you consider that Atmosphere's library was designed from the ground up by a worldwide team of noted and award-winning experts using over a hundred sound design devices and nearly every conceivable synthesis method including Granular, Additive, Wavetable, Wavescanning, Graintable, Neural Processing, Vintage Analog, Vector, Virtual Analog, FM, Plug-In manipulations, it seems trivial that you cannot add and use your own samples.
The range of sounds runs from lush ethereal pads, to powerful leads, crystalline glass swells to dark brooding atonal clouds, unusual synth basses, evocative ambiences, deep drones, complex textures, vintage analog sounds, disturbing noise FX, europhasers, gorgeous ambient string ensembles, thick trance/techno sounds, wavetable sweeps, vocoder choirs and dense vocal washes.
We installed Atmosphere in our MAC 967mHz G4 with 1.5GB RAM running Logic 5.0. Installation was the same as Spectrasonics' Stylus where we had to disable our second digital video monitor before everyone was happy. A key feature of Atmosphere is its "dual-layer" concept where you can immediately mix and match any two layers (called A & B) of any of the 1,000 patches and tweak each layer fully independently. There is over a million possible combinations with each layer having its own multimode resonant filters, four LFOs, three envelopes and matrix modulation. We also like the master filter for quick, "on the fly" final tone shaping.
Atmosphere's sounds are typically complex with internal sonic evolutions that change over time but the interface makes sense of it all and make this synth a "must have" for any music maker! Atmosphere sells for $399MSRP for the complete 6 CD-ROM set with versions for MAS, RTAS and VST Mac/PC included and Audio Unit and OSX versions as free updates in 2003! Telephone Spectrasonics in Burbank, CA at 818-955-8481 or visit www.spectrasonics.net
---