Spectrasonics Stylus™ Groove Module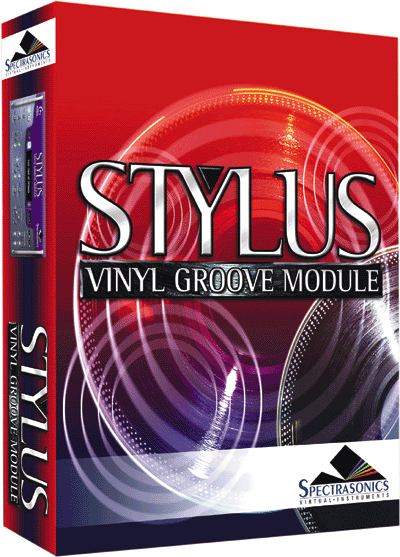 Stylus Vinyl Groove Module by Spectrasonics is a VST plug-in for VST 2.0 hosts like eMagic's Logic, MOTU's Digital Performer or Steinberg's Cubase. Stylus excels with its ability to play loops on the fly, in real time, while synched to your song's tempo. Not really a sampler but with three GB of samples and MIDI data/maps included, Stylus offers a complete repertoire of modern sounds, samples, drops and loops, accessible from a convenient popup menu and organized by tempo, style and feel.
There are over a thousand turntablist tricks, skips, stops, beat juggling and scratch FX. Styles include: R&B, 2-step, Trip-Hop, Chemical, Epic House, Underground Hip-Hop, UK Garage, Downtempo Dub, Nu-skool, Acid Jazz, Trance, Funk, Alternative, Progressive, Rap, Abstract, Urban Neo-Soul, Big Beat, Slo-Jamz, Drum 'N Bass, and others. Menus of loops of the same tempo are mapped across the keyboard and near instantaneous load time lets you test huge varieties of grooves playing along side your song's other track elements without losing time or the plot.
Other features include: additional Master Filter section; extended Groove Control capabilities including randomization; three envelopes for pitch, filter and amplitude; real-time groove jamming at any tempo with Groove Menus; cross-platform and plug-in compatibility; and matrix-style modulation routing with two LFOs.
Producers of pop, urban and dance music will find Stylus indispensable for finding and playing loops and sounds quickly without losing creative flow. Stylus revolutionizes this entire process making it a hands down winner.
At $299MSRP with MAS, RTAS and VST MAC/PC formats included, currently there is no way to load .aiff or .wav files but future upgrades are planned along with even more sounds. For more information, visit Spectrasonics at www.spectrasonics.net
---