Steinberg Cubase SX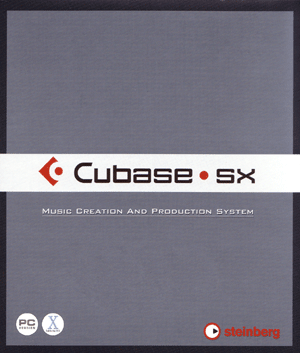 Steinberg has elevated Cubase to a fully pro DAW with an intuitive and wonderful interface for truly elegant performance. Cubase SX incorporates intelligent MIDI and processing tools, new virtual instruments and effects, powerful new editing, scoring, 5.1 surround sound, mixing and mastering. Based on the same audio engine as Nuendo, Cubase SX is for both Windows 2000/XP and Mac OSX, Cubase SX has been fully reengineered for better workflow that offers musicians all the possibilities of a professional studio.
Cubase SX has the following new functions and technologies: graphic automation of all parameters, 5.1 surround mixing, real-time MIDI processing, a complete set of new virtual instruments, many virtual effect processors, unlimited undo/redo, edit history and offline process history and 24-Bit/96kHz operation with 32-bit floating point processing.
I received SX ver 2.0 and immediately installed it in both my iMac flat panel and HP PC. SX comes with a USB authorization dongle that worked fine on both systems. With SX, I am able to do fantastic studio quality recording and mixing only limited by my imagination and my computer's resources. There is latency compensation on all channels--a feature that separates Cubase and Nuendo from many other music-oriented DAWs--even much more expensive Pro Tools systems. I liked the way the interface looks and works especially when mixing and using the equalizer and all the cool effects that come with it.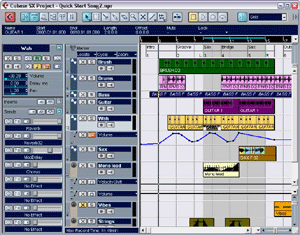 Other features include: a "Freeze" function for VST instruments to save CPU power; Time Warp to create tempo maps from freely-played audio tracks; and a completely configurable mixer, toolbar, transport and track controls.
Cubase SX sells for $799 MSRP. With so much more that I can't cover in this space, contact Steinberg, The Audio Group of Pinnacle Systems at their new address at 3500 W. Olive Ave. Ste. 300, Burbank, CA 91505. Telephone 818-973-2788. Visit www.steinbergusa.net for more info and upgrades.
---