D'cota VST Multiple Synthesis Instrument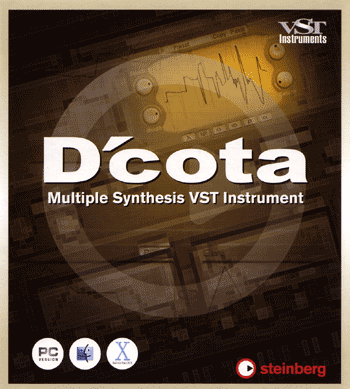 D'cota is a soft synth package from Steinberg that offers three different sound synthesis techniques in one VST instrument. For Mac or PCs, the three synthesis methods are: analog subtractive, spectrum synthesis where very complex formant filter structures can be realized and wave impulse where three comb filters are used to produce excellent plucked instrument sounds.
All three of these methods, each with its own editing interface screens are online at the same time but you cannot internally mix their sounds together. Depending on your host computer's resources, you can assign MIDI channels to each and have them play out up to four separate stereo outputs. (For mixing externally) We found the sound of D'cota wonderfully complex and musically evocative. Many presets reminded us of a range of sounds from a Wave PPG or Waldorf Q or even an old-school Prophet 10.
With near infinite programming options and a great collection of great-sounding presets, the power and depth of D'cota can be only minimally outlined in this space. D'cota provides four ADSR envelope generators and two (MIDI) synchronous LFOs for each of the three synthesis methods. There are eight different types of filter and two waveform generators feeding two independent spectrum stages with user-definable curves. Other salient features are: three alias-free oscillators featuring more than 60 waveforms for frequency, pulse width and ring modulation; eight part multitimbrality with up to 128 voices; and a multi-effect unit with distortion, modulation, delay and advanced random modes.
D'cota retails for $249.99 and is available at your local Steinberg dealer or online at www.steinbergusa.net.Steinberg. Steinberg--The Audio Group of Pinnacle Systems, 9200 Eton Ave, Chatsworth, CA 91311, Telephone 818-678-5100.
---