Steinberg's The Grand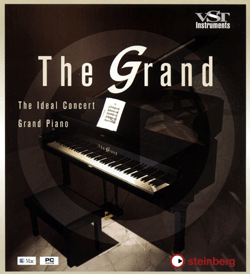 The Grand is Steinberg's virtual grand piano that runs under any VST host software like Steinberg's Cubase or Nuendo. An intense effort was made to present a quality grand piano sound that can be played on any MIDI keyboard allowing for authentic sostenuto, soft and sustain pedal operation with real, re-pedaling response. No loops or dynamic compression were used on the sound samples captured over the three included CD-ROMs. The VSTi engine provides access to four master timbres: natural, soft, bright, and hard. There are authentic sounding damper and hammer actions, a variable room simulation algorithm and both tempered and grand piano tunings.
The Edit window is for setting your own keyboard playing style and sonic preferences. You can adjust action depending on your MIDI keyboard's action and the velocity curve to fit your musical style and sound. Sound changes are not just EQ or filter cutoffs but more real-world factors such as string release and resonance. Since all the grand piano samples take about 1.2 GB of hard drive space, The Grand uses streaming technology to "stream" long samples directly from your hard drive. There are several adjustable system performance options with regard to the ratio of samples streamed from RAM or HD.
The Grand sells for $299 MSRP and Steinberg North America is at 9200 Eton Ave., Chatsworth, CA 91311. Phone 818/678-5100 or visit on the Web at: www.steinbergusa.net
---