Hypersonic from Wizoo/Steinberg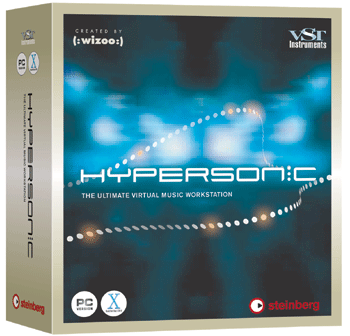 Hypersonic is a software version of an advanced music keyboard workstation. Hypersonic is an "all in one" system for playing and programming synths using a single graphical interface and either your PC or MAC computer. There are five synthesis engines from Virtual Analog, FM, Wavetable to Sliced Loops with 1,000 user preset patches and 2,560 user patches with up to 1,024 voices coming out of 32 outputs.
Hypersonic uses the Combi structure where a Combi is a complete instrument made up of loaded patches, part settings, temporary edits and parts of a setup. There is an advanced search engine to find just the Combis and Patches you'll want for your next song.
A Patch is one sound or voice and it is made of a group of Elements: synth or effect sounds. Here there is a vast library of 400 multi-sampled waveforms; two analog multiple waveform oscillators with sync; three FM operators; a wavetable oscillator and analog oscillator; and Sliced Wave loops. Effects come from three sections depending on how they are used. A FX Element is an integral part of the actual sound and can be thought of as an insert effect. These would be distortion, EQ, compression or modulation effects and reverb. Patch FXs are exclusive to the Patch itself and are send effects like reverb, delay or chorus. Finally, Global FXs are mixing send effects to add to the entire finished sound.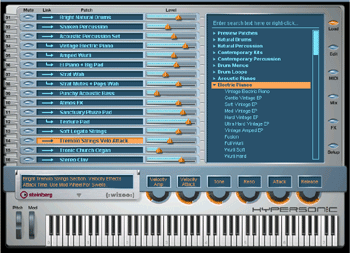 Programming starts with a Part or slot assigned to a MIDI channel. A Part holds a patch with its mixer and MIDI parameters. 16 Parts are displayed at the same time and you can link or mute any of them. Under the Part display is a Level Strip for mixing and then there is the Display area or edit window with six sub pages. In the Display area you can load patches, edit them, set MIDI, tweak mixer settings, and add effects. Since a Patch's set of parameters can fill up to 16 pages, Hypersonic spares your brainpower with context-sensitive Hyper displays to show you just the relevant parameter values and controller assignments.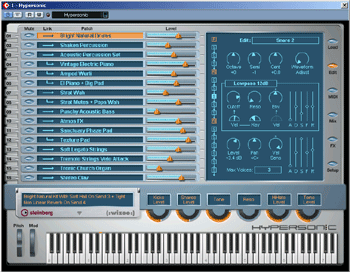 Programming on Hypersonic is intuitive and effective because six Hyperknobs tweak several sound generator parameters simultaneously making even very complex tweaking operations easy and less nerdy--even for the novice.
Programming drums is also a snap because all the loops are "sliced" ready to drop into your sequence and the on-screen keyboard with pitch bend and mod wheels will get you making music even without an external MIDI keyboard.
For much more contact Steinberg Media Technologies GmbH at www.steinberg.net. Hypersonic sells for $399 MSRP.
---