Steinberg/Wizoo Virtual Guitarist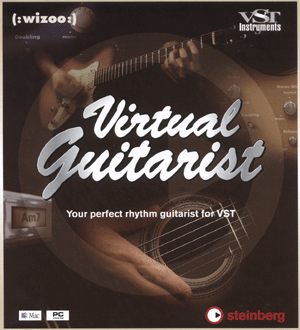 Virtual Guitarist is a new VST instrument from Steinberg and Wizoo that follows in the tradition of Steinberg's Grand Piano VST instrument. You could almost think of Virtual Guitarist as the perfect rhythm guitarist who plays both acoustic and electric guitar, knows all the most difficult chords in any key and never has a bad attitude.
You control and play VG in real-time using a MIDI keyboard and you can alter the sound, change the key and fine-tune the phrasing afterwards. There is a wide selection of sounds and playing techniques like finger picking country, folksy strumming, R&B wah-wah or heavier riff rocking.
Some of the native features are: twenty different virtual players with different guitars, sounds and phrasing, guitar tones like Spanish, Steel String, Clean Strat, Wah, power-chords and metal. There is Shuffle (groove), Dynamic, Timing (tight/loose) and Syncopated Rhythms playing along with long chords. An intelligent fret noise algorithm adds authentic player nuances and by fully using your MIDI keyboard's mod wheel, aftertouch and velocity, you can further humanize any pre-programmed guitar part.
Made for all Cubase, Nuendo and VST-compatible hosts, Windows and Mac operating systems, Virtual Guitarist sells for $249.95 MSRP and comes with three CDs with over two GB of samples. Contact Steinberg North America at 9200 Eton Ave., Chatsworth, CA 91311. Telephone 818-678-5100 or Fax: 818-678-5199. Web at: www.steinbergusa.net
---