Virtual Guitarist: Electric Edition by Wizoo/Steinberg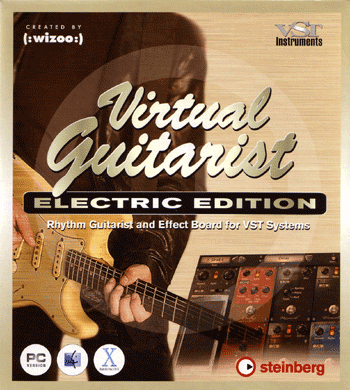 VG Electric Edition is perfect for songwriters and producers who can't play guitar but want full-sounding electric guitars with effects on their recordings. This successor to the very popular Virtual Guitarist (Acoustic/Electric), uses 29 different players and real recordings and covers styles from the '50s to today. VG Electric Edition plays from your MIDI keyboard and the large customizable effects board lets you build your own "wall of guitars." The multi-effects board is also useable as a separate audio plug-in for any VST compatible program like CuBase, Nuendo or Logic.
The new VG Electric Edition has improved playability, outstanding tempo and groove flexibility and is easy to use: choose a player and select the chords. The wide selection of guitars, amps, speakers and effects give you an authentic sound whatever the genre of music. Included styles are Funk, Wah, R&B, Pop, Rock, Heavy and Nu Metal with many sub-variations. The effects board has eight stomp boxes that look (on the screen) real with excellent sounding Wah, AutoFilter, Chorus, Flanger, Phaser, Tremolo, Delay and Reverb.
Key features include, variable playing with adjustable shuffle, tempo, dynamics, timing, decay, stereo width, doubling, presence, mic position and low cut. The doubling feature is cool, but doubling split wide left and right is cooler and the program doesn't complain and balk when you ask for it all at once! The setup page lets you adjust the quality of your chord set (which relates to the amount of memory used), tuning, fret noise, vibrato and a quantize function for chord changes. With these adjustments you can swing this device from '60s Keith Richards sloppiness to Wes Montgomery/Chet Atkins accuracy--just as "humanized" as you want.
For both MAC OSX and PC VST 2.0 host systems, this software is great for quickly getting a guitar feel on your songs. Virtual Guitarist Electric Edition is available for $249 MSRP. For more information contact Steinberg at www.steinbergusa.net. Visit Wizoo at www.wizoo.com
---