Sustained Encounters from the Cycles Series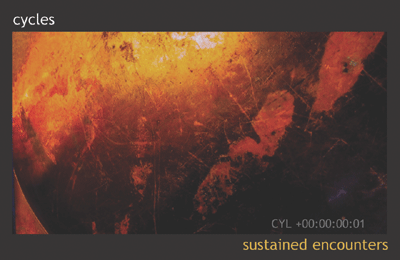 Sustained Encounters is the first audio release from Cycles, a new division of the Cycling '74 software company. Cycling '74 makes a fabulous loop manipulation/control program with a live performance-oriented graphical interface called Radial. Sound library pioneer Ron MacLeod, who was responsible for the 'Poke In The Ear' collections, realized Sustained Encounters using many of the psychoacoustic algorithms of Cycling '74's Max/MSP, Pluggo and Radial programs.
Sustained Encounters is a collection of atmospheric and ethereal sonic backdrops--long, evolving sonic textures and drones made from mostly atonal sounds. You can only use these sound files license and royalty free as long as they are contextually mixed within your composition and not as the sole element of your soundtrack. (It's tempting because some sound good enough to fly on their own but in the case of media work and sound FX, your dialog and/or natural ambience is considered sufficient composition.) These sounds will inspire you creatively and augment your music without making their own huge and obtrusive musical statement.
The package comes as a two-disc set: a regular stereo music CD for quick audition and a DVD-ROM with stereo .wav files in full 24-bit resolution and your choice of 48 or 44.1kHz sample rates. The DVD also contains an Immersion set of ten compositions mixed in six-channel audio for use in surround sound productions. There is also complete documentation (.pdfs and .xls files) for both the music CD and the DVD included. All sound files are uncut and unfaded (for simple end-to-end loop sustain) ready to go into your DAW and then your score.
I found this collection fascinating to listen to (in fact I'm listening to the CD as I write this) with its diaphanous sound wash intricately laced with tranquil and ephemeral aural flourishes. It's musical landscaping not musical wallpaper and I'm immediately reminded of Brian Eno's seminal Music For Airports album after hearing many of these soundscapes. Any film/TV composer will love this collection for instantly "vibing up" their music tracks. Future Cycle releases promise to tap some of the most visionary sound designers of the experimental scene.
Sustained Encounters sells for $99 MSRP and for more information, contact Cycling '74 at 415-974-1818 or visit www.cycling74.com. Buy it at www.cycling74.com/products/order.html#cycles.
---