VocALign Project from Synchro Arts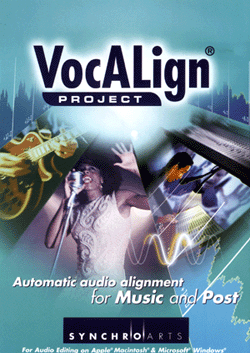 VocALign Project and VocALign for Pro Tools are software programs that automatically align two complex audio signals in time. VocALign solves the problem of matching singers or actors to an already recorded track. This becomes important for lip-synching in films or for lining up two vocalist's takes for a better sounding double-track effect. Pattern matching software rejects backing track leakage and works with any speakers, singers, words, instruments and sounds. VocALign works through the selection of specific audio regions for processing. Graphical and scaleable display of a region allows for visual confirmation of sync while the pitch of the re-aligned audio remains unchanged. The music producer has the ability to choose from different vocal takes the best rhythm groove, pace or cadence and use it for a "template." A pre-recorded vocal by someone else can also be used as a tempo pattern. The artist can choose to follow this template and VocALign will fix any imperfections afterwards. Sort of a production insurance policy, lead vocals, backing vocals or voice-overs can be made tighter or even "re-grooved" if required for remixes.
VocALign Project for Pro Tools is an AudioSuite plug-in for Pro Tools ver 5.0 or higher. VocALign Project is a standalone application that runs in PT ver 3.2 to 5.0 as well as for MOTU Digital Performer 3.0 and via the clipboard in Cool Edit Pro and Sound Forge. Both MAC and PC platforms are supported as well as 16 and 24-bit audio files. VocALign sells for $299 and is available from Synchro Arts Limited Global House, Ashley Avenue, Epsom, Surrey, KT18 5AD, UK. Telephone +44(0) 20 823 9100 or visit www.synchroarts.com.
---