Tascam CD-GT1 Portable CD Guitar Trainer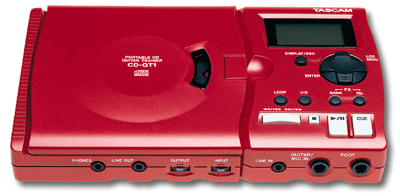 One of the more "fun" tools I saw at the recent Winter 2003 NAMM Show was the CD-GT1, an accompaniment unit for musicians who want to jam or sing along with their favorite CDs. With the $199 CD-GT1, you get a CD player with a built-in modeling guitar and vocal effects and input and output control.
Key to its usefulness is the ability to play along with any standard audio CD and use the Slow Speed Audition function to slow down the CD's playback speed (tempo) up to 50% without affecting pitch. There is also a pitch change feature that puts the music in different keys but without tempo change.
Other cool things that allow no excuses for NOT practicing are: seamless in-out looping for rehearsing difficult song sections; a footswitch input that can be used to start and stop CDs as well as switch effects; and a line input to use the effects for other audio sources such as cassette decks. There is also a built-in chromatic tuner.
For additional information on the CD-GT1 visit www.tascam.com. Tascam is at 7733 Telegraph Road, Montebello, CA 90640. Telephone 323-726-0303.
---