Tascam Pocketstudio 5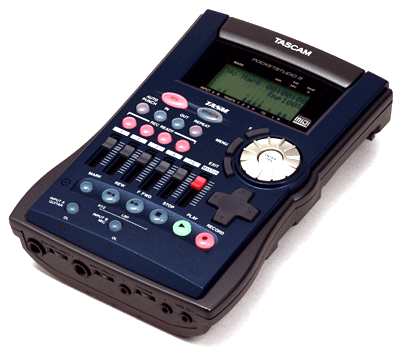 The Pocketstudio is a portable recording studio and MIDI sequencer in a handheld unit. The unit covers all four bases for songwriting and recording: there is a four-track digital recorder, a MIDI synth module for playback of standard MIDI file sequences, MP3 facilities for mixdown, and a USB port to send song files to computers for subsequent CD burning, emailing, or web site posting. The Pocketstudio uses Compact Flash cards to store digital and song data. Call it a handy music sketchpad, Pocketstudio has 100 built-in DSP effects for complete song production in the palm of your hand.
Digital recorder features include auto punch in/out recording, computer-like copy/paste editing of audio and MIDI tracks using bars and beats, and track-to-track submixing/bounce. The Pocketstudio 5 runs up to two hours using standard AA-sized alkaline batteries but the unit comes with an AC power supply, a single 32MB Compact Flash card, and a headset microphone in addition to its built-in condenser mic.
The Pocketstudio sells for $599 and for much more, contact Tascam at 323-726-0303 or visit www.tascam.com
---