Baby Taylor Guitars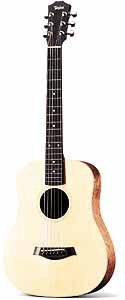 The original Baby Taylor is a 3/4 sized travel guitar that is small enough to fit in the overhead bin of an airliner. The new Baby Taylor series are made in a special new factory next door to the main Taylor factory in El Cajon. Originally, the guitars were made with mahogany veneer and a solid spruce or mahogany top but now you can buy one with backs and sides made from maple, rosewood, koa or African bubinga wood. The Baby Taylor is the only guitar Taylor makes using laminated woods. Laminates are more expensive to make and are said to be able "take more abuse" than solid woods.
One feature borrowed from Taylor's acoustic bass guitars is called "The Wall" where the neck attaches to the body by way of the sides rather than the top plate. With the top plate free, you'll get a bigger and louder sound that belies the Baby's diminutive size.
Other good things on these small guitars are: fully adjustable truss rod; included strap pins; solid ebony fingerboard and bridge; and laser-etched soundhole rosette. Taylor combines the best of both worlds with hand assembled instruments made from parts made by computer numerically controlled (CNC) machines. Machines cut fret slots; do some fingerboard sanding (most sanding is done by hand); neck shaping; inlay slots; bridges; shape the nut and cut nut slots to tolerances of ten-thousandth of an inch.
Available now in a full-size version called the Big Baby, there is much more about these guitars and pricing available from Taylor Guitars at 1980 Gillespie Way El Cajon, CA 92020-1096. Call them at: 800-943-6782 or 619-258-6957 or visit: www.taylorguitars.com
---