Taylor Guitars K4 Equalizer™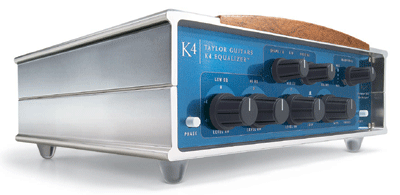 The K4 Equalizer is a purpose-built pre-amplifier/equalizer for acoustic guitars. Selling for $898, the K4 is optimized for extending the tonal capabilities of Taylor's Expression System (ES) pickups. Mr. Rupert Neve, who created the preamplifier used in all ES-equipped guitars, also collaborated with Taylor to develop the K4 Equalizer.
The K4 Equalizer has low impedance, transformer-coupled balanced inputs and outputs, which connect directly to the balanced output of an ES-equipped guitar. Features include: specifically designed bass and treble controls for acoustic guitar, a sweepable two-band parametric midrange control with adjustable "Q" (or the equalizer's "quality"--a measurement of the amount or width of frequencies affected), an effects loop with choice of pre or post EQ, phase invert, headphone jack with independent level control, output mute and a dedicated tuner output. Each Taylor Guitars K4 Equalizer is housed in a compact metal case, with a wood-trimmed top.
The unit comes with a power supply (but also runs from batteries), custom carrying case, microphone stand mount (super handy) and connecting cable. For much more information, contact Taylor Guitars at 800-943-6782 or visit www.taylorguitars.com
---