Tech 21 American Woman Overdrive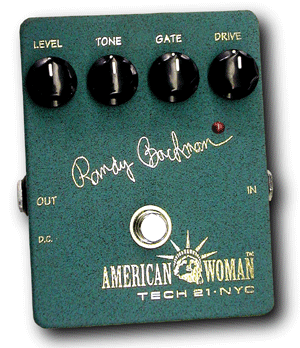 What was Randy Bachman thinking when he created one of the all-time classic guitar solos in the middle of the Guess Who's seminal hit, "American Woman?" Whatever it was, I bet he never thought the melody and soaring tone he used would sustain to this day in our memories. Developed at the suggestion of Randy Bachman, Tech 21's American Woman Overdrive pedal works with any amp and duplicates the entire signal chain of Bachman's '59 Les Paul going through his amps.
The American Woman pedal has four controls: Drive, Gate, Tone and Level. The secret lies with the right blend of odd and even harmonics created by series-connecting two different guitar amplifiers: speaker output of one amp into the guitar input of another. You can always back down the Drive control and the American Woman pedal cleans up its act for semi-dirty and warm blues sounds.
Other important technical issues are: 1megOhm high input impedance for the 1/4" jack"just like a good tube amp and a 1kOhm low output impedance so that the 1/4" output drives long cables without loss of sound. As with all Tech 21 gear, there is a smooth and silent-switching custom actuator. The American Woman sells for $150 MSRP and runs on a single nine-volt alkaline battery (not included) or optional power supply (Tech 21 Model #DC2).
Tech 21, Inc., 790 Bloomfield Avenue, Clifton, NJ 07012. Telephone 973-777-6996 or check: www.tech21nyc.com.
---