Tech 21's Bass Power Wedge 60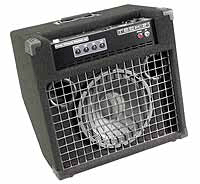 Kinda of a dual problem solver, the Tech 21 Bass Power Wedge is stage monitor speaker with a twist. The Bass Power Wedge 60 is used with any direct recording device or pre-amp (like Tech 21's own SansAmp Bass Driver DI) to provide up to 60 watts of power on stage or in the studio. Simply connect your line level output from your favorite pre-amp or pedal and go. At the same time the Wedge has an XLR output that goes to the house PA or the studio recording console. The twist is that you can daisy-chain as many of the Wedges around the stage as required. Each with its own volume control, you could provide one for your drummer and another for your singer.
The front ported cabinet is covered in heavy duty black carpet and has a chrome-plated steel grill. Features include a single, ten-inch, cast-frame custom-designed speaker, 3-band active EQ controls, individual level control, balanced XLR input, and both 1/4 inch input and balanced XLR outputs.
MSRP is $445. For much more, contact Tech 21, Inc., 790 Bloomfield Avenue Clifton, NJ. Telephone 973-777-6996, Fax 973-777-9899. Web site: www.tech21nyc.com or E-mail: info@tech21nyc.com.
---