Tech 21 Trademark 200 Guitar Amp Head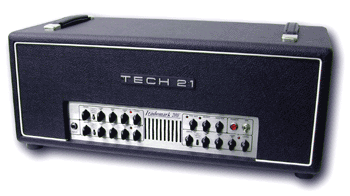 The 200-watt Trademark 200 head is the latest addition to Tech 21's Trademark Series. There are three independent, identical preamps with a choice of California, British and Tweed amplifier styles using Tech 21's proprietary SansAmp technology. Each preamp has its own Drive and Level controls, three-band active equalizer and three preset sounds under footswitch control. Besides preset changing, Tech 21's silent footswitching uses any 1/4-inch instrument or speaker cable and controls a Boost function (up to 9dB) for solos and standouts and engages either one of two effect loops: a series effect loop and a parallel effect loop with mix control. You also get a buffered tuner output, parallel speaker output jacks, a SansAmp XLR direct output for recording and the amp's electronic chassis is removable and ready for a standard 19-inch rack mounting.
The Trademark 200 is covered in black vinyl with decorative white piping and measures 25 inches long by 11.5 inches wide by 9.5 inches high and weighs 31 lbs. The rackmountable version weighs 16 lbs. Both sell for $845 MSRP and will be ready late Summer or Fall, 2002.
For much more, contact Tech 21, Inc., 790 Bloomfield Avenue Clifton, NJ. Telephone 973-777-6996, Fax 973-777-9899. Web site: www.tech21nyc.com or E-mail: info@tech21nyc.com.
---