Trademark 300 from Tech 21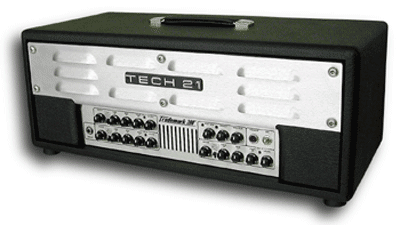 Because 'more is more', Tech 21 increased the power of its Trademark 200 guitar amp head to 300 watts before starting full production. Otherwise all features remain the same as the Trademark: three independent, identical preamps with a choice of California, British and Tweed amplifier styles. Each channel has its own Drive and Level controls, as well as three-band active EQ (+/-12dB). By using Tech 21's well-known SansAmp technology, the all-analog Trademark 300 makes all the most desirable tube amp sounds and has the flexibility to dial in your own sounds.
Other features include Boost function (up to 9dB) for solos, SansAmp XLR Direct Out, series effect loop, parallel effect loop with Mix control, buffered tuner output, and parallel speaker outputs. The included footswitch utilizes any standard 1/4-inch instrument or speaker cable. Tech 21's silent-switching actuators change channels, activate the Boost function, and engage either of the two effect loops.
Covered in black vinyl and complemented by a decorative vented metal plate, the Trademark 300 cabinet measures 25" L X 11.5" W X 9.5" H and weighs 36.5 lbs. The rack mountable chassis weighs 21 lbs. The 300 sells for $995 MSRP and is manufactured in the U.S.A. by Tech 21, Inc., in Clifton, New Jersey. For much more info, telephone: 973-777-6996 or visit www.tech21nyc.com
---