Tech 21's XXL Reissue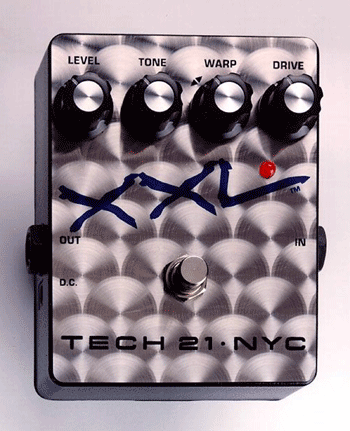 Originally introduced in 1995, Tech 21's XXL Stomp Box is now available again in a limited quantity of new "old-stock." With the distinctive lathe-turned pattern stainless steel top plate, the XXL features the Warp control for manipulating the unit's harmonic structure for smooth transitions from traditional distortion to classic tube amp overdrive all the way to a vintage fuzz tone. Warp influences the ratio of odd and even harmonics in response to the dynamics of the particular instrument and an individual's unique playing style.
Set to the middle Warp position, XXL yields traditional distortion great for chords and rhythm parts with the extreme setting producing a smoother, fatter, thicker tone for solos and standouts. The minimum Warp setting produces higher amounts of even harmonics like the overdrive sound of a Class-A tube amp. Maximum Warp over saturates the unit for sustaining notes that 'sing.'
In addition to the familiar controls of Level and Drive, there is a level-compensated passive Tone control. Tone choices go from flat, to low frequency boost at mid position, to a high frequency roll-off at the extreme--all without changing output level.
Made in the U.S.A., XXL runs from a single nine-volt battery or the optional 9V DC power supply (Model #DC2). XXL sells for $150 MSRP and for much more contact Tech 21, Inc. at 973-777-6996 or Website: www.tech21nyc.com.
---