Temples Of Sound from Chronicle Books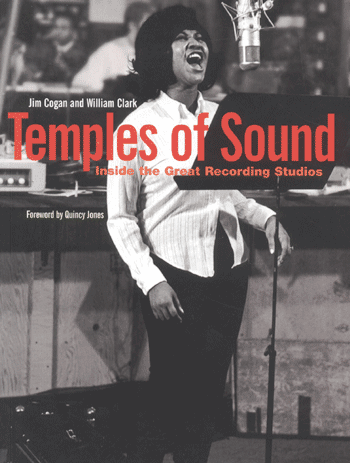 Temples of Sound is an interestingly detailed look at the history of the American recording studios where some of the biggest hits in Pop music were created. Each of the fifteen chapters covers a single studio with commentaries from producers, engineers and musicians who worked there in those heady days. Studios include Stax, Chess, RCA, Atlantic, Motown, Sun and LA's own Capitol and United/Western studios. The recordings chronicled were made in the 1950's, 60's into the '70's by artists such as Aretha Franklin, Frank Sinatra, Brian Wilson, The Doors, Muddy Waters, Rolling Stones, Cream, Nat "King" Cole, Marvin Gaye, Otis Redding, the Bee Gees and many more.
The book has many great and rarely seen in-session photos that help to tell the background stories of the seminal records made in those times. Authors Cogan and Clark prevail upon master storytellers like Steve Cropper and the late Tom Dowd to 'tell it like it was' when relating their experiences recording songs like "Green Onions" or when Cream recorded the "Disraeli Gears" album in one weekend.
Recording engineers will be interested to read about all the "happy accidents" that resulted in trademarked sounds...like the intense sound created by cramming as many musicians as possible in the small space that is Sun Studios in Memphis, TN. Temples Of Sound sells for $24.95 and is available from Chronicle Books. Check www.chronbooks.com or www.chroniclebooks.com.




Temples Of Sound
---