Val Garay Tracked Drums DVD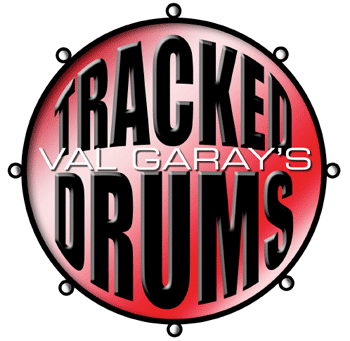 Val Garay Tracked Drums DVD is a 2004 version of the same idea behind the original drum library from the '70's called Drum Drops. Like DD, Tracked Drums is a collection of eleven, three to four minute drum tracks to complete songs--not just loops but verses, pre-chorus and choruses drum parts played by a real drummer. There are dynamic changes, drum fills, turnarounds and nuances any good drummer gives you but few drum programmers can even fake. Unlike DD, TD's drum tracks are multi-track recordings (11 separate tracks per song: kick, snare, hat, toms, overheads, room etc) so you can remix and edit the kit's sound to fit your song perfectly. Special features included that are important when you start tempo matching, chopping up and rearranging these drum tracks are: separate fills in the clear, fills in time, and separate hits at three different volume levels. An instant "working" stereo mix will get you going as soon as you load in these sessions.
I say sessions because the three DVD-ROMs available so far each have eleven pre-made song sessions in both Pro Tools® or Emagic's Logic™ format, MOTU's Digital Performer®, and stereo ReCycle™ files.
Grammy award-winning producer/engineer Val Garay (Linda Rondstadt, Kim Carnes, James Taylor, The Motels) engineered these recordings and the Wizards of Oz and the Reno Bros. produced. So far the tracks have been used on records by artists from the Backstreet Boys to Ricky Martin to up and coming J Records artist Shannon Curfman.
With tempos ranging from 80 to 150 BPM and evocative titles like "Alanis 90", "Day Tripper 140" and "R&R 110", all of the tracks have been processed with Digidesign's "Beat Detective," placed on a grid and locked to a click. Drummer Brad Polain, who has worked with The Wizards of Oz (Avril Lavigne & The Matrix), and many other well-known recording artists, supplied the grooves.
DVD-ROMs, each with all eleven songs, are available in Pro Tools/Logic, Performer of ReCycle formats and sell for $399 MSRP each or buy all three for $999. For much more go to www.valgaraydrums.com.
---