Four New Earphones From Ultrasone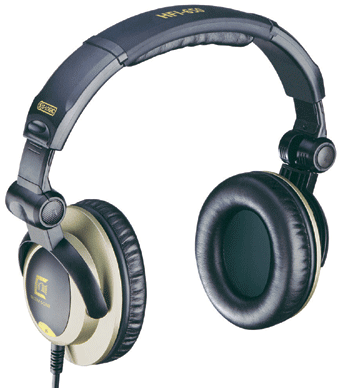 German manufacturer Ultrasone has been earning kudos from many respected music business producers and engineers with their new line of studio headphones. Currently, there are four models that all feature S-Logic, a decentralized transducer position that directs more sound to the outer ear. Ultrasone says this creates a more natural listening experience because the stereophonic surround field is perceived as broader than the 'inside your head' feeling of other phones. This also allows you (they assert) to reduce the sound pressure level (volume) up to 40% and still maintain the apparent loudness you want. Lastly, Ultrasone states that medical research has shown that the magnetic field emission from dynamic headphones is hazardous to your health. Average magnetic field emissions from other headphones are four times the maximum recommended level (TCO '99) and that the S-Logic and PROline technologies developed by Ultrasone reduces these emissions by up to 98%.
To check sound quality I compared the three sets of Ultrasone headphones I received with my AKG K271s with favorable results. In general, all the Ultrasone phones were louder and brighter than the AKG's--my phones were designed to be close to 'ruler flat' in frequency response. I received the Ultrasone HFI-650, HFI-550 and HFI-2000 model headphones with the 650s becoming my favorite. The 550s were close in sound to the others but not as smooth in the upper midrange as the 650s. The 2000s were more 'scooped out' in the midrange and had a very smooth and further lifted high frequency--reminiscent of the sound of electrostatic headphones. In addition, I could not get the 2000s to fit my misshaped head correctly. Both 650 and 550 fit very well and were comfortable for several hours.
It's great to see some new choices in headphones. All four models fold up (except the 2000s) easily for storage and come with 3-meter cables, gold-plated connectors and carrying pouches. Prices are: $99 for the HFI-15G lightweight portables (I didn't test); $189.00 for the HFI-550; $249 for the HFI-650 and $249 for the HFI-2000. There are also PROline versions of each available at additional cost. Contact Ears Audio Distribution at 615-794-4494 or visit www.earsaudio.com.
---