Charlie Virtual Organ Module from USB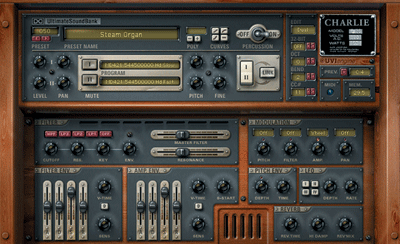 Ultimate Sound Bank now has Charlie, a great retro-sounding organ made up of actual samples of the Hammond organ and it's Leslie speaker--actually 12,500 samples spread out over 500 presets. This virtual instrument, with over three gigabytes of 32-bit samples, comes on a single DVD-ROM and loads and plays on PC (VSTi), MAC OS 9 (MAS, RTAS and VST), as well as MAC OS X (MAS, RTAS, Audio Units and VST). I tried it out on a big Pro Tools rig running a MAC G5 and PT ver 6.4.
After a quick and easy install, Charlie comes up just like any plug-in ready for your MIDI keyboard. There is a single screen to adjust every parameter of any preset. Hundreds of drawbar combinations are provided along with real-time cross-fade control between presets and speaker effects. Most of the presets are dual layer usually with a slow Leslie speaker on one layer and the same patch with a fast Leslie setting on the other. Since these are samples, it is the only way to have access to both Leslie speeds--accomplished by moving the Modulation wheel on the controller up/down for fast/slow. Unfortunately you don't get the "ramp up/down" of the speed like a real Leslie but the great sound of the organ samples more than makes up for that. Included are "direct" recordings of the organ so you could always use a Leslie speaker plug-in (or better yet a real Leslie speaker) and process the dry signal.
The interface works great with control over: reverb, percussion, velocity curves, full ADSR and filter, panning of the two layers, drive levels, pitch, master filter with resonance and much more. Certainly much more control than any organ ever had! And also like no organ, there are controls for optimizing Charlie's operation for minimum CPU load--although we had absolutely no problem in 32 or 16-bit modes.

With some minor kinks to do with the small control knobs, the partially non-working Link mode, and that you can't load the same organ in both layers, keyboardist Jed Leiber and I really liked Charlie and especially the presets called Lord Full, Baby Jazz, Jazzy B Slow, No Mercy, and Serious Full. We're wearing it out on every song we can! Charlie sells for $299 and is distributed by ILIO at 818-707-7222 or www.ilio.com
---