Verbatim Store 'n' Go USB Drive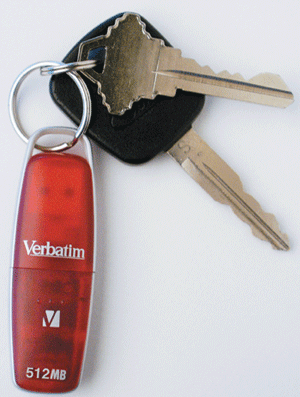 Actually the new Verbatim Store 'n' Go USB drives use a solid-state (no moving parts or even batteries) flash memory chip for holding any computer data for up to ten years. Data like music, text or image files or your latest MIDI sequenced song file. Using the USB 2.0 specification, these 'drives' are fast: up to eight times faster than USB 1.1 with 256Mb of data transferred in 30 seconds making using a CD-R (once you factor in burn time) pretty passé. Store 'n' Go drives are as big a AA battery and come in sizes from 32MB (at $29) to 1GB (at $349) and are also backward compatible with the slower, yet ubiquitous USB 1.1 spec. They are sold with a USB extension cable, instructions, security/driver software and a lanyard for wearing the unit around your neck--although I opted to attached it to my keychain.
In operation, I could transfer files between my PC and MAC with no problems and I found copying and carrying home rough song mixes much faster and better than burning a CD--a CD-R that would soon become eternal landfill! If your PC is newer with USB 2.0 or you have any MAC with USB and OS 8.6 or higher, there is no need to even install the software. I did install the software on my PC running XP Pro and I do have to plug it in twice to get system recognition because of my old USB 1.1 port card. The software has tools to set up password-protected private and public partitions so you can share memory space with other people without fear of accidental data overwriting.
A subsidiary of Mitsubishi® Chemical Corporation, Verbatim is at 1200 W.T. Harris Blvd., Charlotte, NC 28262. Telephone them at: 800-421-4188 or visit www.verbatim.com
---