Verbatim® Digital Vinyl CD-R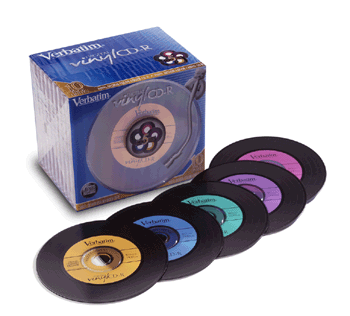 Verbatim Corporation has a new family of CD-R discs that are all fun! Called Digital Vinyl CD-R, the new discs look like old-time 45-rpm records but are really 700MB, 80-minute CD-R discs. Even though retro-looking, Digital Vinyl CD-R discs use a patented dark blue azo dye technology for excellent read/write performance and superior data fidelity when used with higher-speed CD recorders.
Digital Vinyl CD-R discs have been tested and certified by all of the leading drive manufacturers and Verbatim's special dual-protective reflective layer is said to provide longer archival life and protection from scratches on the recording layer that can damage or destroy critical data. Verbatim's DataLifePlus® CD-R media, which includes Digital Vinyl CD-R discs, is the only recordable CD media that includes this double protective layer as standard for enhanced protection against sunlight, high temperature, humidity and handling.
Available in packages of five and ten discs, the already pre-labeled CD-Rs come in five colors if you'd like to color-code you music library of CDs. Expected street prices for the new media are $1.49 for a single disc and $12.99 for a 10-pack. For complete information on Verbatim's new Digital Vinyl CDR media contact Verbatim at 1200 W.T. Harris Boulevard, Charlotte, NC 28262. Telephone 800-421-4188 or visit www.verbatim.com.
---