VOX Hand-Wired AC 30 Amps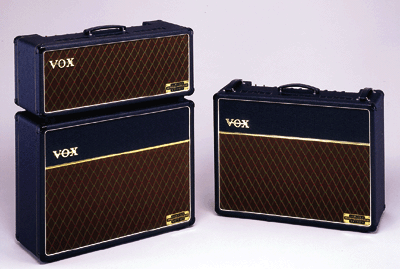 Vox Amplification has decided to build a run of Limited Edition, hand-wired AC30 guitar amps. They are building both the AC30HW 30-watt 2X12 combo and the AC30HWH 30-watt head that'll drive the new CV212LTD 2X12 speaker cabinet. Much of the detail and construction of the original amps is replicatedƒyou could drop in one of the hand-wound transformers, exact copies of the Albions, from these new amps into an old original unit and it would work.
The new amps have a single Top Boost channel and a Master Volume circuit taken from the AC15 combo. There are also Bass and Treble controls and a Tone Cut knob that acts like a presence control. A historical first for a Top Boost channel in an AC30 is tremolo with variable Speed and Depth controls and a built-in Accutronics spring reverb with Level and Tone controls. Two classic, twelve-inch VOX/Celestion AINiCo Blue speakers are used and all cabinets are made from birch plywood and sport a commemorative "Hand Wired" plaque.
MSRP prices are: $4,000 for the AC30HW combo, $3,250 for the AC30HWH head, and $1,350 for the CV212LTD cabinet. For much more, contact VOX Amplification through Korg in Melville, NY. Telephone 516-333-9100. The Web site is www.voxamps.co.uk
---