Waves IR-1 Parametric Convolution Reverb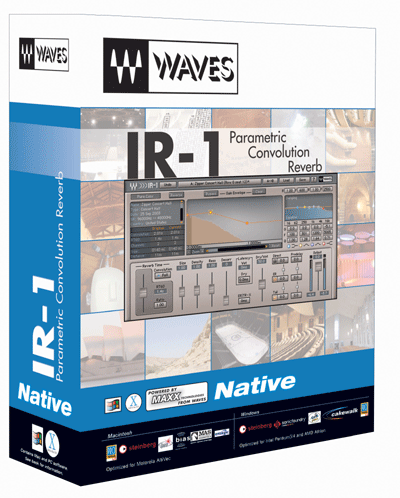 I've been having a lot of fun with the new Waves IR-1 Parametric Convolution Reverb plug-in. I'm running the VST version in my Cubase SX2 program and I'm loving putting individual music and vocal tracks into many different acoustic spaces. The process of convolution uses acoustic impulse responses (sampled measurements) of actual rooms, halls, churches, auditorium or even famous recording studios and nightclubs to "rebuild" those spaces virtually inside of your computer. Once realized, you can send (using your mixer) any instrument or vocal tracks into that space just like a conventional digital reverb. The Waves IR-1 program takes convolution a giant technological step further by allowing control over all the familiar digital reverb parameters like decay time, pre-delay, diffusion and more using the familiar onscreen controls. These parameters are actually changed from 1/4th to four times their natural value and not merely filtered or externally processed renderings of the same presets.
IR-1 comes with an extensive library of over 60 carefully sampled actual impulse responses from real halls and other spaces as varied as the Santa Cecilia auditorium in Rome to Nashville's Bluebird Cafe, to the interior of a Lincoln Navigator! There are also famous hardware-based reverb devices sampled to round out the collection.
Using IR-1 is just like any other reverb plug-in: load a preset and start modifying to your needs. I like that you can change the reverberation time and size of an actual sampled space without losing its character. Once you have set the size and shape of your desired acoustic space, you can load in another set of completely different impulses and have it conform to your existing editing--as far as I know no other convoluted reverb or any reverb lets you do that!
Some more technical features are: graphical breakpoint envelope editing allow the decay shape to be infinitely modified; change the reverb density; analyze the frequency response and derive the room modes; use de-correlation to optimize the stereophonic character of the reverb; filtering enables the damping to be precisely controlled; add gain and pre-delay to each portion of the reverb curve. Suffice it to say the possibilities are endless.
IR-1 is supported on Mac and PC via RTAS, HTDM (Mac), AudioSuite, VST, DirectX (Win), MAS (Mac), and Audio Units (Mac). The Native version is $800 MSRP and the HTDM version is $1200. Much information is at www.waves.com.
---