Wristreleve™ Wrist Support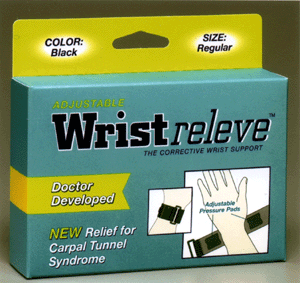 All of us who use a computer all day or do any repetitive task using our hands, wrists and arms could use these lightweight wrist bands. Developed by a doctor, Wristreleves work by lifting the carpal tunnel to relieve compression of the nerves and tendons running within it. The kit includes two wrist straps that are fully adjustable and complete instructions for their proper use. Each strap wraps around the wrist with movable pads that applied pressure to specific bone joints. This system does not interfere with normal motion or flexibility. I am wearing them as I type and while they tend to lift my wrists off my desk while typing, I find no problem wearing them.
Wristreleves come in two sizes: regular for 5 1/2 to 9 inch wrists and large for 9 1/2 to 11 1/2 wrists. Wristreleves are sold at pharmacies nationwide and sell for $14.99 and $16.99. For more information about them and carpal tunnel syndrome, call or write Niche Pharmaceuticals at P.O. Box 499, 200 North Oak Street, Roanoke, TX 76262. Call 800-677-0355.
---