Yamaha 02R96 Digital Mixer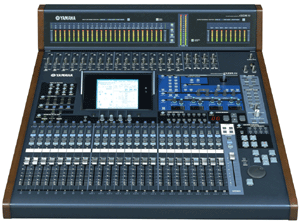 It makes perfect sense for Yamaha Corporation of America, Professional Audio Systems Division to launch the 96kHz version of their immensely popular 02R digital mixer. The 02R96 is a thorough revision of the old console with six times the processing power and many features copied from the upscale DM2000 console.
Exactly the same size as the original, there are 56 channels of 24bit/96kHz audio, surround sound monitoring, 16 user-defined keys for function assignment, Studio Manager (software compatible for both MAC and PC) and DAW Control (such as Pro Tools or Nuendo). The 24 precision 100-millimeter motorized faders are layer-switched to control any of 56 channels. With 32-bit internal processing and 58-bit accumulators, Yamaha has also included many 96kHz compatible stereo effects with several designed specifically for surround mixing. Up to four individual effects processors may be used simultaneously. All 56 input channels feature independent compression and gating/ducking processors while the four-band channel EQ has switchable Type I or Type II algorithms and the maximum channel delay has been increased to 453 milliseconds.
I/O capability is handled by four I/O slots and 24-bit/96kHz-capable Mini-YGDAI digital and analog I/O cards. Cards are available for ADAT®, TASCAM, AES/EBU formats or for more analog channels. Surround features include panning, joystick, monitoring, bass management and stereo mix monitoring. A multi-channel surround pan/position displays the position of multiple channels in the surround mix.
Prices will be announced when the 02R96 is available in July 2002. Get more information at Yamaha Corporation of America, Professional Audio, P.O. Box 6600, Buena Park, CA 90622. Telephone 714-522-9011 or go to www.yamaha.com/proaudio
---