Yamaha Absolute Series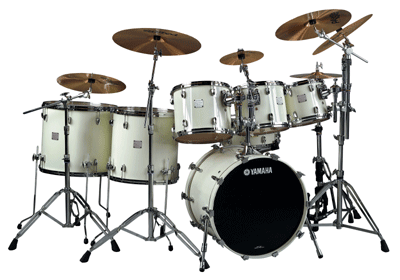 The Yamaha Absolute Series, popular for five years now, has a whole new set of upgrades and finish options. Absolute drums are sold with a choice--you can mix and match different wood types for a customized look and tonal individuality. Rack and floor toms are now available in "Universal" dimensions (between traditional jazz and power sizes) and all snare drums and toms feature light weight, yet rigid, aluminum die-cast hoops for a focused sound, longer sustain and more consistent tuning. Also new are the Nouveau lug casings, an optional quick release lug casing that does not touch the shell--letting the drums sustain longer. Bass drums now feature a new spur with a larger diameter leg and die-cast claw hooks with tension rod inserts that make changing heads easier.
There are 44 colors including 33 custom colors and eleven "core" colors. Core colors include: Cherry Wood, Sea Blue, Solid Black, Silver Sparkle, Black Sparkle, White Marine Pearl, Vintage Natural, Honey Yellow, White Mica, Red Pearl Natural and Vintage Black. The new five-piece Maple Custom is $4,799, the Birch Custom $4,449 and the Beech Custom sells for $4,099. Any of the individual drums from these sets can mixed or matched into one kit.
For more information on the upgraded Absolute Series drum kits, write Yamaha Corporation of America, Pro Audio & Combo Division, Drum Products, P.O. Box 6600, Buena Park, CA 90622. Telephone 714-522-9011 or visit www.yamaha.com or www.yamaha.com/drum.htm
---