Yamaha's Pro and GranTouch Pianos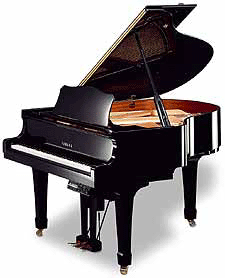 Yamaha has added a CD drive to its latest line of Disklavier Pro and GranTouch series pianos, enabling playback of audio/MIDI CDs. This adds to the traditional Disklavier floppy disk drive. Models with the CD-ROM drive include: DC7PRO, as well as the Disklavier GranTouch DGT2A and DGT7A. These new pianos are capable of playing PianoSoft™ PlusAudio discs. that combine live piano performances and vocalists. More than 20 titles are now available for purchase from top music artists such as Christopher Cross, Bob James, Frank Sinatra, and Dave Koz, as well as Christmas favorites, Broadway hits, Latin rhythms and classical standards. In addition, Yamaha has also added an Extra Memory Kit (EMK) that allows the user to store nine different libraries of prerecorded songs for quick and easy programmed playback. EMK lets you store songs and set them to play at any time of the day.
The PRO and GranTouch series retain the Disklavier's traditional ability to record each detail of the artist's fingering and pedaling with absolute precision and store it on a standard floppy disk for easy playback. More than standard MIDI data, the record feature on the Pro series will capture even the slightest upward and downward movement of the keys and pedals in a more dynamic way than is possible using conventional MIDI.
For more information about the CD Drive feature on the Disklavier Pro and GranTouch piano series models, write Yamaha Corporation of America, Piano Division, P.O. Box 6600, Buena Park, CA 90622-6600; visit: www.yamaha.com or phone 714-522-9011.
---