Yamaha DM2000 24/96 Digital Console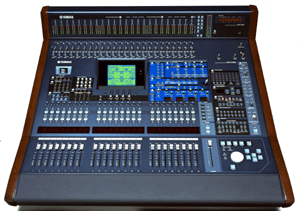 The DM2000 is a 24-bit and 96kHz digital audio production console that will make its official US debut in early spring, 2002. The initial MSRP will be $20,000 for this comprehensive, high performance digital system that offers 96 input channels, extensive surround production features, integrated digital audio workstation and ProTools™ control. While in 96kHz mode, you do not sacrifice inputs or outputs, as is the case with current, similarly priced products. This has been made possible by utilizing the newly developed DSP7 LSIs with 32-bit (accumulative 58-bit) internal processing.
All internal effects are 96kHz-compatible stereo effects, many designated for surround mixing. Up to eight, 32-bit/96kHz internal multi-effects processors can be used simultaneously either as auxiliary buss send effects like reverb or delays, or as inserted effects directly into any input channel. All console parameters, including the individual channel four-band equalizers along with the 24 touch-sensitive 100 mm motorized faders that are layer-switched to control the 96 channels, are automatable with automation data recorded to an accuracy of 1/4 SMPTE frame. The console includes extensive surround features such as panning, joystick, monitoring, bass management, and a downmix matrix that allows both LCRS and stereo mix monitoring while mixing for 5.1 surround sound DVDs. Multiple 5.1 stem mixes can easily be handled and dedicated cascade ports enable two DM2000s to function in tandem, providing a maximum of 192 input channels.
It is impossible for me to cover all the wonders of this new console in this space but suffice it to say that the DM2000 offers great analog mic pre-amps, comprehensive monitor and metering and is compatible with all current digital multi-track formats including Yamaha's YGDAI cards and Apogee's A/D and D/A cards.
Contact Yamaha Corporation of America, Commercial Audio Department, P.O. Box 6600, Buena Park, CA 90622. Phone: 714-522-9011 or visit www.yamaha.com/proaudio
---