Yamaha Motif ES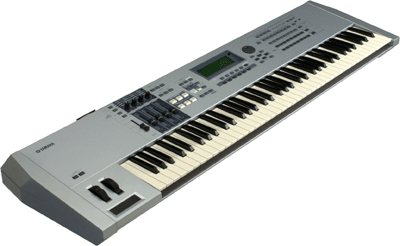 The 61-key Motif ES 6 (MSRP $2,350), 76-key Motif ES 7 (MSRP $2,850) and 88-key Motif ES 8 (MSRP $3,350) feature the largest wave ROM ever provided in a workstation keyboard at 175 MB in 16-bit linear format. Like the original Motif, these new entries combine synthesizer, a digital workstation and Integrated Sampling Sequencer (ISS) for total integration of audio and MIDI coupled with a powerful user interface.
The ES series uses an advanced new tone generator chip that includes 128 notes of polyphony, new filter algorithms and massive DSP power for up to 16, three-band EQs, eight Insert effects, two system effects and two master effects in Song and Pattern Modes. Samples included are from Yamaha's MegaVoice technology that reproduces sounds complete with physical characteristics, timbres and nuances of sampled acoustic and amplified instruments. Phrase Factory™ adds 1700 arpeggios and real time loop remix for easier than ever track creation. Improved hands-on control functions have larger knobs, sliders, transport controls, and a new ribbon controller.
Other features include support for 512 MB of DIMM sample RAM, USB storage hosting and second-generation mLAN computer connectivity for future expandability. The mLAN16E option (MSRP $499) will allow the Motif ES to easily integrate with mLAN devices such as the Yamaha 01X.
All three models are currently available, and supercede the Motif 7 and Motif 8 Music Production Synthesizers; Motif 6 will stay in the line at a reduced price. An upgrade program is also available for owners of the original Motif to upgrade to the Motif ES at www.motifloyalty.com.
For more information on the Motif ES Series, write Yamaha Corporation of America, Pro Audio & Combo Division, Digital Musical Instruments, P.O. Box 6600, Buena Park, CA 90622. Telephone 714-522-9011; or visit www.yamaha.com, www.yamahasynth.com or www.motifator.com.
---