Yamaha SLG100S Silent Guitar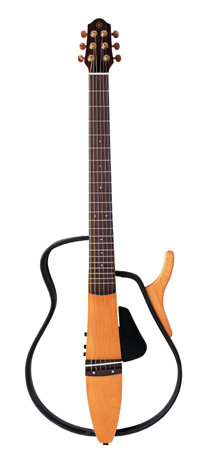 The latest entry to Yamaha's fascinating Silent family is the steel-stringed SLG100S Silent Guitar. A natural after Yamaha's Silent Nylon Guitar, the SLG100S offers a way for students or traveling musicians to rehearse anywhere without disturbing any one. The internal DSP has a choice of natural-sounding reverb and acoustic spaces and the on-body mini-stereo input jack easily connects to an external CD player or tape machine for practicing or playing along with pre-recorded music tracks.
Onstage performing and/or recording guitar players will like the SLG100S's fantastical look and self-contained design that includes a combination of both piezo in-bridge and L.R. Baggs pickups. The SLG100S can be plugged into any amplifier or P.A. system with total freedom of feedback.
The SLG100S is made with a lightweight composite body, mahogany neck and rosewood fingerboard, plus a pickguard and an adjustable rod in the neck. Like the whole Silent line, SLG100S breaks down quickly for ease of transportation in the include gig bag. With AC adapter and headphones, the steel-stringed SLG100S Silent Guitar sells $900 MSRP. Yamaha Corporation of America, Pro Audio & Combo Division, Guitar Products, P.O. Box 6600, Buena Park, CA 90622. Telephone 714-522-9011. Visit www.yamaha.com or www.yamaha.com/guitar.
---