Yamaha's SubKick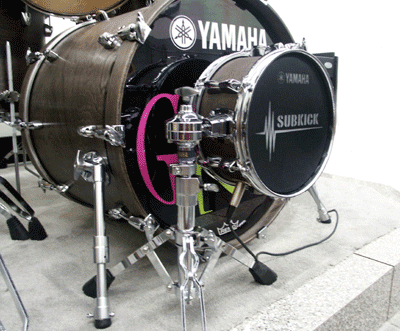 Subkick is a special transducer that captures audio below 100Hz. Subkick uses a standard loudspeaker enclosed inside a small, ten-inch drum shell. The 6.5-inch woofer (frequency response 20Hz to 8kHz) is shock-mounted inside a 7-ply birch and mahogany shell fitted with black mesh heads.
Subkick is normally aimed at the front head (or any other drum) of the bass drum; at first looking like another drum mounted in an impossible playing postion. To mount Subkick, the base of a snare drum stand is used with a special ball clamp to attach the unit.
Designer and Yamaha Drum Artist Russ Miller explained that the drum shell focuses sound waves in a strong, directional pattern through the speaker. The heads, although sonically invisible to those frequencies, add a small amount of sustain to the overall sound. There is a standard XLR mic connector and no phantom power is required. With or without regular drum mics, this system works by adding loads of big bottom end and sustain. Sells for about $499 MSRP complete with stand. Check out www.yamaha.com.
---