Zion Guitar's Primera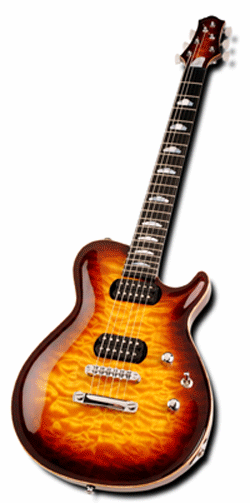 The Primera guitar is the culmination of over 25 years of Ken Hoover's experience as founder of his Zion Guitar Technology Company. There is a long list of changes, "tweaks" and improvements starting with the heel on the set neck especially carved to allow maximum access to the upper frets. There is a contour on the back, affectionately called the "belly cut," that aids in playing comfort and for a more direct acoustic connection to the body, the pickups are mounted directly to the body without suspending them in plastic frames.
Zion Guitar Technology uses an innovative design to virtually eliminate tuning problems. Using Sperzel tuners and a Graph Tech nut, the strings run in a straight path avoiding the angle the D and G strings normally make on the peghead. This detail relieves the friction points the strings might catch on and thus not return to true pitch after bending.
Other good things: choice top woods (flame maple is stock) that matched the peg face cap; mother-of-pearl fingerboard inlays and truss rod cover; your choice of DiMarzio or Duncan pickups with Bardens, Fralins and EMGs available. Colors include: Trans Amber, Amber Burst, Root Beer Burst, Tobacco Burst, Cherry Burst, Trans Red, Trans Blue, Black Burst, Stain-Like-Fire, and Tiger Eye.
The Primera sells for $3,495 MSRP with hard-shell case and for more information contact: Zion Guitar Technology at 2302 Atlantic Ave. Raleigh, NC 27604. Telephone 919-754-9790 or visit www.zionguitars.com
---